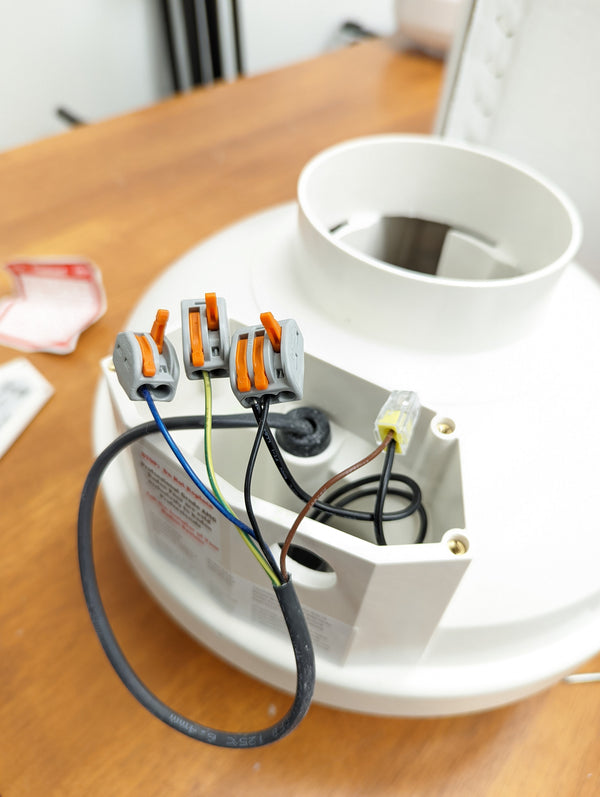 Are All Radon Fans The Same?
Are all Radon Fans the same?  When choosing a Radon Fan replacement what should I consider?  Many people latch onto energy consumption, looking for low wattage fans.  Some people just look for the lowest price.  Some people think that the RPMs are important.  Some people even look for the quietest fan possible without any consideration of power and performance.  We are here to tell you that there is really only one overriding factor in choosing a replacement fan.  Which fan is the one that will most effectively reduce your Radon to safe levels?  It is for this very reason that we have a radon fan selection tool on our website for you to use.  Radon fans are gauged two ways, suction (measured in how many inches of water the fan can pull) and air flow (how many cubic feet of air per minute the fan can move).  These are the considerations in determining which fan can create a pressure field beneath your slab to prevent the radon from coming into your home.  The two most important considerations are, what's the material beneath your basement slab and, how large is the footprint of your home.  To break it down in the simplest of terms, difficult material beneath the slab (things like clay, tight soil, and sand) requires high suction fans.  Large and very large footprint homes require a high air flow fan.  Some homes require both and that is why we designed our Extreme Fans, the Eagle Extreme and the Legend Extreme.  Whatever your need is, we have a fan for you.  With 15 fans to choose from, your Radon can be fixed with a Festa Fan.
Now that we've gotten performance out of the way and know that there can be significant differences between one fan and another, what about differences from one brand to another?  Radon fans are not complicated, they are made up of three important components, a motor or motorized impeller, a housing, and electrical connection to connect it to the power of your home.  Let's start with motors.  Radon fan motors are very important and have to be engineered to be very resilient considering they run 24 hours a day, 7 days a week.  They are also sitting outside or in an attic where there can be tremendous temperature fluctuations from one season to another.  In addition to this, radon fans installed outdoors encounter the elements and need to have a housing designed to withstand all types of weather.  Finally, Radon fans can suck up silt and sediment and all types of debris and moisture.  The motors need to be designed considering this.  It is for this reason that we partnered with EBM-Papst over 20 years ago.  They are widely considered the best small motor manufacturer in the world, making over eighty million motors per year.  We worked together to design the quietest, best performing, long lasting motors in the Radon industry.  Each motor is precision balanced for quiet, vibration free operation and has components designed to last over a decade under continuous operation.  The next important component is the housing.  Other Radon Fan manufacturers have injection molded plastic housings.  We have opted to a much more expensive technology.  We utilize compression molding for our housings which are made out of a glass reinforced polyresin.  This is found to be denser and better at sound suppression.  It is also excellent at retaining its color and appearance.  For the final important component, we have the electrical connections.  Other fan companies use either wire nuts or a terminal block to connect the fan to your home's electric.  We have elected to go with lever nuts for their assurance of a good connection and ease of use.  Wire nuts require you to twist two wires together and screw them together with a loose, threaded wire nut.  If one of the wires slips down, you will not have power to the fan.  Having the wire nuts loose also presents the opportunity to drop one in the mulch or snow.  For wiring a Radon Fan with a terminal block, you are required to insert 3 wires under a screw in the terminal block.  It then requires a very small flat head screwdriver to tight the screw down to secure the wire in place.  Our decision to use the lever nuts was twofold.  The first was to have the simplest way to wire Radon Fans in the industry.  The second was the certainty of a good electrical connection.  To wire using a lever nut is as easy as 1,2,3.  The lever nuts are already in the electrical box connected to the fan wiring.  To connect it to your wiring coming into the fan, you simply lift a small lever, you insert your wire into the vacant bay, and you click the lever into place.  No tools are required and you are guaranteed a good electrical connection.
To summarize, Radon Fans should be selected first and foremost based on the performance required to bring Radon levels down to a safe level.  Secondly, Radon Fans should be selected based on quality of components.  Finally, Radon Fans should be selected on ease of installation.  In all three of these areas the Festa AMG Radon Fans excel.  That is why we are the contractor's choice.  Tune in for more helpful hints on Radon, Radon Fans, Radon Fan Replacements, and Radon Mitigation/Remediation!